Nourishing the Soul, November 8-10, 2013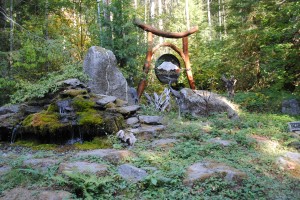 Cultivate space for your Self.
Connect with the powerful wisdom Within.
Celebrate the gift of your spirit Alive in this world.
Take time to deepen your relationship to your own magnificent self.  Using the natural beauty of Wellspring Spa, Kim and Melode have created a weekend that will allow you to move beyond your distractions and to bring your spirit more fully into this world.  Thoughtful presentations, gentle yoga sessions and group conversation will be balanced with time to just Be.  Time will be available to indulge yourself in exploring the one-mile Meditation Trail, Woodland Labyrinth and the Outdoor Sanctuary.  This is a perfect opportunity to take time to truly nourish yourself, in body, mind and spirit.
This very special weekend begins with check-in on Friday, November 8, 2013 at 3pm at Wellspring Spa.  Wellspring is nestled in the woods at the foot of Mount Rainier.   Cost for the retreat and all meals is $345.  Early Bird Registration, if registered by October 1st, 2013 is $295.00. Five incredible, organic meals will be prepared specifically for the group by cordon bleu trained, gourmet chef, Heather Foster.   There is an additional cost for lodging.  Lodging prices are as low as $39/night for shared loft sleeping.  Other sleeping options include  cabins and rooms ranging from $95—$195/night.  Spa services are available for purchase at very reasonable prices. More information can be found at www.wellspringspa.com
Click here to download the registration form.  Contact Kim for more information.