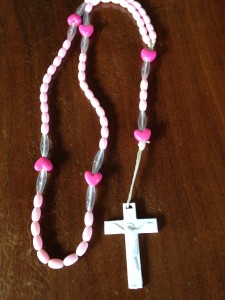 From my journal dated December 29,1990
'I went to Devotions at the Mother House tonight.  As I was leaving, Mother Teresa was just returning from a holiday gathering.  She stopped to talk with me and my companions.  She held my hands as she asked how we were doing.  I said I was fine and asked, "But how are you?"  She said she was just fine.  I asked her about her heart, knowing she had recently been in the hospital for a heart condition.  She said, "Oh it is fine.  I have two now, you know.  They gave me a pacemaker."  We all giggled and she assured us she was feeling well.
Mother Teresa asked if I had my rosary.  That night at Devotions, we were given a plastic rosary.  I told her I had put it back.  She looked me in the eye and told me to keep what I get!   she said she would get me one tomorrow.  As she departed, she said, "God Bless you, dears."'
I was not there the next day and I did not have another chance to get a rosary while I was in Calcutta.  However, a few years later, my friend Amy went to Calcutta and brought me home a rosary from the chapel at the Mother House.  This simple gift reminds me to RECIEVE the gifts God gives me with gratitude, to use them with integrity and to share them with joy.